London in 1 Day - A Simple Itinerary of Everything You Need to See and Do
In my opinion, London is one of the greatest cities in the world for tourists. You just can't ever get bored, there is so much to see and do.
However, what if you have only one day to visit and explore London? Maybe you have a long layover at one of London's many airports and want to see London but need to cram it in as short a time frame as possible.
If you are only in London for one day, this itinerary plan is for you! This guide will explain what you need to see (and what is realistic to see with just 1 day in London), and includes some other tips and advice for travelling to London.
1 day London Itinerary Plan Basic Overview - all within walking distance
Getting from London Airports to Central London
How are you arriving to London? If you are coming from one of London's many airports then make sure you read my full guide on how to get from London airports to central London here. There are several airports, with multiple ways to get to central London so that page goes over every option. Last updated: 2018
Getting around London - a quick primer to their Underground tube
STOP! Before you go to London you should know about how to use their public transport. Did you know you can't even pay for busses anymore? You have to have a card. Find out details on my guide to how to use London's public transport (underground tube, bus, taxis etc.) here. Please check it out, so you know how to use London's extensive and reliable public transport network.
Ok, you are in London. Let's see a one day London travel itinerary to see all the major landmarks!
If you have only one day, then you have to go where most of the tourist attractions and landmarks are. You really could spend a couple of weeks (or more!) in London and still find things to do, but the following set of landmarks are most of the major ones, and luckily they are within walking distance. You can follow them in order (we do backtrack and go through Leicester Square twice, but the second time we include China Town and other bits).
A link to a map is provided at the bottom of this page.
Start off at Covent Garden
In a rush? Skip this and get a tube to Piccadilly Circus or Leicester Square.
Covent Garden is a really cool area, with lots of small independent shops in a former fruit-and-vegetable market.
Covent Garden actually refers to the district, but most people talking of Coven Garden are referring to the former fruit and veg market.
You can often find very talented street performers inside it - they get big audiences. But watch your belongings as pick pockets are known to operate while you watch the shows.
You can also get something to eat in Covent Garden, but it is a bit expensive (even for London!).
Walk to Leicester Square (5-10 minute walk)
Leicester Square is what I've always thought of as the main 'centre' of London. It is where London film premieres are shown (in the Odeon cinema on the square). At Christmas time there is a big Christmas market in the middle of the square.
It is quite touristy - you can find many souvenir shops near here. And one of the best/worst shops in London: M&M's World. You have to go inside it to see it! 4 floors with everything you can think of with the M&M's logo on it. It is really expensive, don't bother buying any sweets here. Just go to any of the normal shops nearby to buy a packet of M&M's much cheaper.
There is also the Lego shop there too, directly opposite M&M's.
Walk to Piccadilly Circus (5 minute walking distance), explore Regent Street.
You will see photos of Piccadilly Circus on a lot of London postcards and travel guides. It is quite an iconic scene and a popular tourist attraction, although that means that nowadays it is just surrounded by tourist souvenir shops.
If you keep walking, you will get to Regent Street, which leads to Oxford Street (they meet at Oxford Circus). These are the two main shopping streets. They are especially busy at christmas times (so busy that I would recommend avoiding it at peak times). But during non-Christmas period it can be nice to walk up and down if you like endless shops.
The famous Hamleys toy store is on Regent Street. It is the worlds largest toy shop. Even if you have no kids with you, go and check it out. It is a huge shop and quite a big tourist attraction.
Once you are done with the shops in this area, head to Trafalgar Square via Leicester Square.
Walk to Trafalgar Square (via Leicester Square again)
Again if you are in a rush, then go from Picadilly Circus (or Oxford Circus if you walked that far) to Leicester Square on the tube, and skip this walking part!
On the way back to Leicester Square you can make a slight detour, and go to Carnaby Street. This detour is only a couple of minutes walking time, and nice to see a cool little shopping area.
Also while you are on the way to Leicester Square, go to Chinatown. It is a couple of streets 'behind' Leicester Square.
For me, China Town is one of the coolest things in London. It is just a couple of streets, but it really feels like a different country than UK! This is a fantastic place to get some very tasty and cheap Chinese food. There are lots of restaurants here, with authentic and delicious food. They often do lunchtime buffet deals.
Another key landmark in London is Trafalgar Square.
This is a tourist hot spot. Years ago it used to be a pigeon hot spot, as the tourists could buy bird food and feed the pigeons. But they banned that, and now it is just full of people.
At the top of Trafalgar Square, you can always see some kind of street performers. There are the actual, talented street performers (that draw in a big crowd), and also people dressed up as Yoda or Pikachu. Apparently there are turf wars about this: see here.
At the top of Trafalgar Square is the National Gallery. This is completely free to enter and includes many works of art such as many Van Gogh pieces (there are at least a couple of entrances to the National Gallery. You want to enter the building on the left, and go to room 43 for his famous paintings. Of course there is much, much more to see than just Van Gogh there though!
Go to The Mall, and walk towards Buckingham Palace to go and see the queen!
The Mall is a road that leads to Buckingham Palace from Trafalgar Square, and goes under the famous Admiralty Arch.
This is a famous road, and if you have ever seen a royal public display (such as royal weddings and more) then you will have seen this road. The London Marathon also finishes here every year. It is closed to traffic on Sundays.
Go see the Queen! You won't see her, but there are lots of guards to see. And even more police. This area only contains tourists. So many tourists!
If you want to see something interesting, then time your visit so you see the Changing of the Guard.
Walk through St. James's Park and see the Squirrels and Pelicans
As you were walking along The Mall to Buckingham Palace, you would have seen a big park on your left side. This is St. James's Park.
Walk through it! It is a 23-hectare (57 acre) park that is well kept and popular with tourists and locals alike. There is a lake in the middle of it, which attracts many birds. Including a colony of pelicans, which have been there since they were donated in 1664 by a Russian ambassador to Charles II. Their wings are often clipped, so they don't fly away. There is also one pelican which can fly and often goes to London Zoo to try and get some food.
There are also squirrels. So many squirrels! Bring some nuts for them, they will come up to you and you can feed them.
Walk past the Horse Guards, and turn right towards Downing Street
Horse Guards is a building which is at the end of St. James's park. If you walk under the arches and towards to road you will see the mounted trooper of the Household Cavalry. They are soldiers on the back of horses (see photo above). Get more details (including when they Changing the Life Guard happens) here.
Once you are done with this area, get to the main road (Whitehall) and turn right.
Soon you will come across a heavily guarded gate. This is the entrance to Downing Street (the Prime Minister lives at 10 Downing Street).
You can't enter the gated area, but you can look through the gate and see the street sign with the street name.
Head to Parliament Square
Next is to carry on walking for maybe 5-10 minutes until you see the Houses of Parliament and Big Ben.
You will also see the River Thames and in the background of your view you should see London Eye. That is where you should head next.
Walk over the bridge and walk towards London Eye (South Bank)
You should be able to see London Eye - the big wheel. Cost: £27 (but see below on how to get a 2 for 1 deal).
The side of the river with the London Eye is known as South Bank. Walk along the river down there, you can often find very entertaining and skilled street performers there. You can also pop in to the SEA LIFE London Aquarium there. Again, scroll to the bottom of this guide to find out how to save money and get a 2 for 1 discount voucher for SEA LIFE by using your train ticket...
You could also pop into London Dungeons (scroll down for details about this) but this'll take approx 2 hours which is a big chunk of your 1 day in London!
Other things you should see or do, that aren't on this list
In order to make a 'London in 1 day itinerary' I had to pick things that were close to each other (you can walk the above itinerary)!
So that means there were several places that you should really try and see in London that didn't make the itinerary. Here are the things I really recommend you make time to do!
Tower of London castle / museum / crown jewels
The Tower of London is full of history and is one of the most important historic buildings in England. Today it serves as the home of the Crown Jewels, and is London's most popular tourist attraction (I recommend it! It is very well set out), but many years ago it has been a royal palace, a prison, execution site, treasure vault.
It is very close to the financial district of London, and you can see Tower Bridge from the Tower of London.
If you visit, make sure you use the 2 for 2 discount offers (see bottom of this post). This applies to most tourist attractions on this page.
Tower Bridge famous London landmark
This is definitely the most famous bridge in London. Sometime it is even mistakenly called "London Bridge" (but that is something else!)
You can walk over it. If you are 'lucky' you might try and walk over it as the bridge lifts (approx 1000 times a year, so it is quite common. It might be nice to see if you are a tourist with time to waste, but it can be frustrating being caught by this!)
It is close to Tower of London.
The Shard tallest building in UK
The Shard is a huge 95-story (309 metres/1016 ft) skyscraper in Southwark (walkable from Tower Bridge). It is the tallest building in the EU, and 5th tallest building in the whole of Europe, and the 96th tallest in the world.
You can see it from all over London. Even if it wasn't obvious just from its size, you can always spot it thanks to its very distinctive shape. If you look closely at my photo of the Tower of London (above), you can see it in the background.
Standing 309.7 metres (1,016 ft) high, the Shard is the tallest building in the United Kingdom, the tallest building in the European Union, the fifth-tallest building in Europe and the 96th-tallest building in the world
It isn't really designed to be a tourist attraction (it is for businesses to have their offices!) but you can go to "The View from The Shard".
It lets you view 360 degree views all over London, and on clear days you can see up to around 40 miles (60km)
It is open from 10am-10pm, so maybe you can find time in your 1 day in London to visit it! I recommend it! It costs just over £30 per person. But if you get a sightseeing pass called the "London Pass" you can get in for free - see the section at the bottom of this post about how to save money in London.
you can see it from a distance, as it is the largest building in Europe. Near to Tower of London
Borough Market Huge market, under railway tracks, near the Shard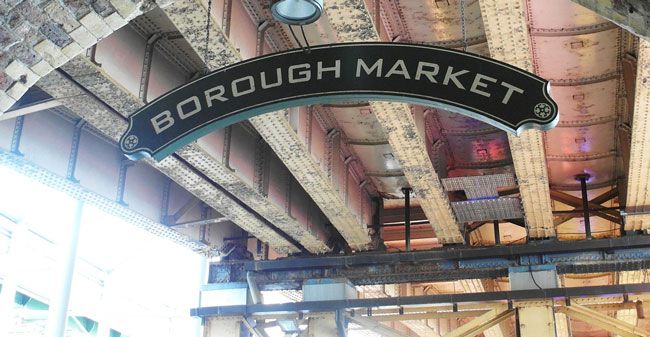 If you are near the Shard then you should consider the option of grabbing something to eat at Borough Market. It is close, and you won't find a bigger selection of cheap and tasty food. It is often regarded as 'foodie heaven'. There are many award winning food places here - just go for a wander and pick something that looks appetising. I guarantee you'll love the food!
BTW, it is pronounced like 'bur-uh market'. Listen here. It doesn't sound like 'bo-rough'
London Zoo
Situated in Camdem (north west London - nowhere near Tower Bridge or the Shard!), London zoo is one of the best zoos that I've ever visited. You can easily spend half a day here.
London Zoo is very close to Camdem market (open Monday to Sunday, 9.30am to 6pm), which is very famous for finding bargains and weird gifts from the 200+ stalls there. Some people love the Camdem market but I've always personally found it a bit rubbish and walk straight past it when going to London Zoo.
The British Museum, Science Museum, Natural History Museum
(pic above is of the British Museum, below is Natural History)
The Science Museum and Natural History Museum are a 7 minute walk from each other (basically next door to each other). The British Museum is a bit further away.
But all 3 of these are free to enter. They are a great day out - with kids or without. They house some of the most impressive exhibitions you'll find in any museum around the world.
BTW, the British Museum isn't actually about Britain (ok, some parts are!). It is full of ancient artifacts from all over Europe, Asia, Africa and more.
Kensington Gardens
Kensington Gardens are one of the Royal Parks of London, and you can find it to the west of Hyde Park (another park I recommend visiting if you can), in western central London.
The London Dungeon
The London Dungeon is a popular tourist attraction. There are many interactive shows, live actors and 1000 years of history shown here. You'll learn about Guy Fawkes' plot to blow up Parliament, learn about Jack the Ripper, and more.
It isn't cheap, but enjoyable. Last time I visited it took around 2 hours to visit it.
You can find it at South Bank, near London Eye/SEA LIFE
Churchill War Rooms
The Churchill War Rooms are the WWII underground HQ of the British High Command. Nowadays it is an interesting museum that tells you about Churchill's life, the life of Londoners during WWII.
You can find it on the way from the Horse Guards towards Big Ben
Harrods 7 floors of luxury shopping
If you need to do so luxury retail shopping then you can't get any better than Harrods. It is a super luxurious shop (that attracts millions of visitors every year!) with a world-class selection of products. There are seven floors, over 300 departments and you can be sure to find almost anything you need. If you are going there to spend some serious cash you'll get to enjoy the services of their professional personal shopper team. But as a tourist you probably won't experience this.
Hamleys huge toy store
Hamleys Toy Store is heaven for kids! The toys are expensive, but there are SO MANY OF THEM! Even if you are a group of adults it is fun to go in and explore the store. They always have workers demonstrating the more fun toys, or showing magic tricks (of course they will want to sell you the box set that'll explain how they do the tricks).
Hamleys is on Regent street (which was part of the itinerary above).
Kings Cross Train Station and Platform 9 3/4 For Harry Potter fans
If you love Harry Potter then I don't need to say any more!
What to do in the evening in London?
London is great for nightlife, and has you covered no matter what your interests are:
See a musical show at the theatre - London's Westend is famous for its big shows. Buy tickets beforehand.
Go drinking in Shoreditch - currently a very trendy part of town
Go for a ghost tour - there are many companies offering ghost tours, such as this one.
Go for a late night tour See London by Night on a bus - see here.
See some Opera at the Royal Opera House - near Covent Garden
Go to a comedy show at the Comedy Store.
View the above London 1 day itinerary plan on a map
This is split over several maps, on Google Maps (they have a maximum of 10 items per map). This also shows the time it takes to walk between each item. Please note that you cannot actually see 10 Downing Street, but just the entrance to Downing Street. Also despite what Google Maps shows, you should walk straight through St. James's Park.
Covent Garden -» The Mall: 2.2miles, 44 minutes walking time. Link: Google Maps Part 1
The Mall -» London Eye. 2.1 miles, 42 minutes walking time. Link: Google Maps Part 2
This shows the total walking time of around an hour and a half, but this isn't including stopping at each attraction, taking photos, etc.
How to save money in London
How to get 2-for-1 discount vouchers for London attractions
Buy a train ticket! Seriously! Look for brochures in any train station (you won't find them in London tube stations) for "2FOR1". They let you go to most of the big London tourist attractions with a 2-for-1 ticket. So go with a friend, and split the costs of just one ticket. You can also organise it on DaysOutGuide.co.uk.
They include London Eye (normal price: &pound27 - but you can get two tickets for that price if you buy a train ticket). Tower of London (Normally £28 for one ticket). London Dungeon (normally £30), London Zoo and many many more attractions.
Just buy the cheapest train ticket from whatever station you were at. Full details can be found on the link above - but you can get train tickets for just £2 or £3. I've used tickets for 2FOR1 before without actually travelling with those tickets.
There is also the London Pass. You can buy it online (as of September 2018 they have a 20% off sale). There are some great deals with this pass, however it isn't cheap. But if you are going to have a really busy day you should work out how much it'll cost you and you might save money by getting it. One of the best savings is that you can get free entry to The View from The Shard (normally costs £30+ per person) with it.
Ok, so that is my guide to one day in London!
I hope this helped with your planning, and I hope you enjoy your trip to London.
Do you have any thoughts or questions? If so, please leave them in the comments below - I do read and reply to them.